Dutify
Simplify import duty & tax.
Don't let unknown duties and taxes be a barrier for shipping.
Calculate import duty and tax.
Expand your horizons, go international.
We offer a range of solutions to enable your business to take the next step and ship internationally with confidence. Our accurate and up-to-date trade data ensures your customers only pay exactly what they should.
Landed Cost Calculation
Buy or sell internationally with ease. Classify your product in four simple steps and use our landed cost calculator to get an accurate import duty and tax quote.
Classification Services
Get up-to-date duty rates and full length HS codes for your products using our self-serve web application, or utilise our professional tariff classification services.
Global Trade Content
Access our documentation covering country import guidance, free-trade agreements and regulatory information so your business can make the right decisions.
Powerful APIs
Integrate our API solutions directly into your ecommerce checkout and provide your customers with an accurate landed cost for their purchase.
Why Dutify?
From our data to our technology, here's just a few reasons to go Dutify.
Academic landed cost
Our calculation results include duties, additional taxes and sales taxes.
Full HS codes
All HS codes are full length, including the country specific statistical codes.
Classification services
Professional classification services for products that we don't cover.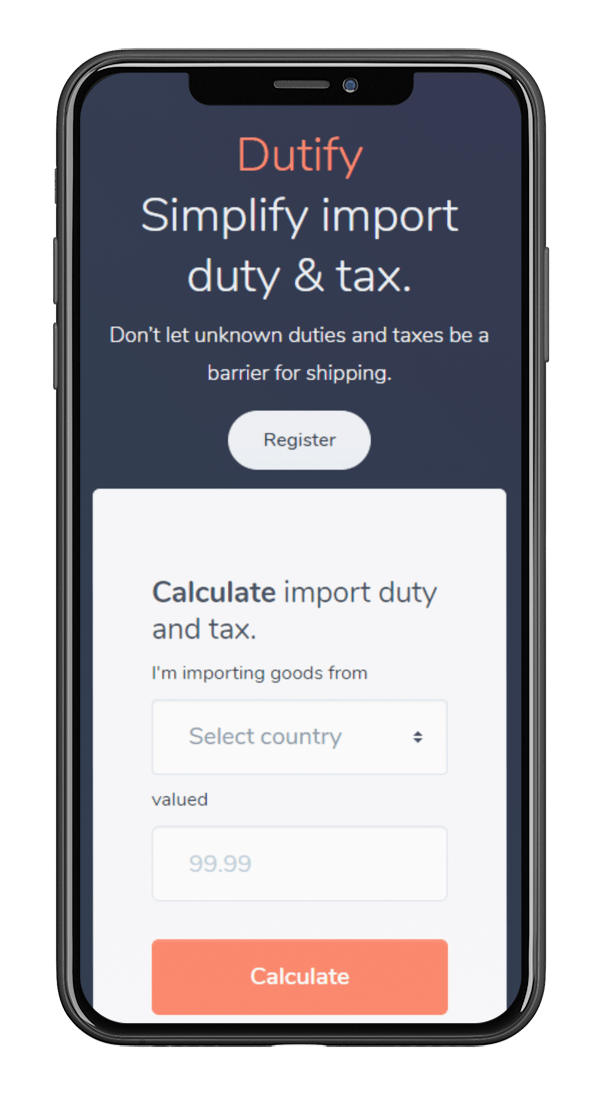 Accurate data
Our government sourced data is updated and audited daily.
Powerful technology
A comprehensive web application paired with a fast and powerful API.
Global coverage
Comprehensive country coverage with customs union support.
Subscribe for your free account
Sign up to get free access to our solutions as well as weekly content updates. Whether you're a private individual or an enterprise business, we're confident that you'll love our offering.
Get started for free
Sign up for your free account today and get access to free calculations and HS code lookups. No credit card needed.
Have questions about Dutify?
If you have any questions about our solutions, data or pricing, feel free to contact us here.